Entertainment
Jennifer Aniston breaks internet with 'FRIENDS' reunion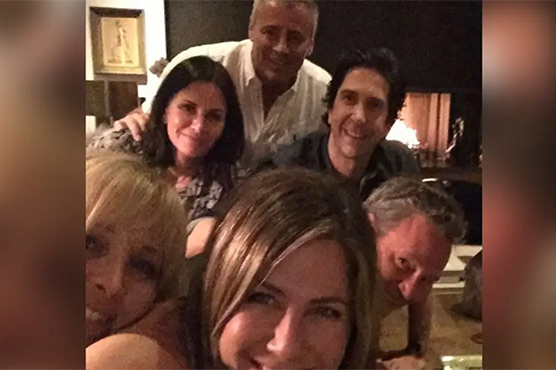 US – Jennifer Aniston, who is widely known for her role of Rachel in American sitcom "FRIENDS", has finally joined the Instagram with a selfie of all six members of the show and broke the internet.
The internet could not be happier as the sassy Rachel joined the social-networking application with the most loved TV show cast. Her first post was with the Courtney Cox, Lisa Kudrow, Matt LeBlanc, Matthew Perry and David Schwimmer which attracted a lot of love from all over the world as they all united for the 25th anniversary of the show.
Jen took to Instagram has expressed, "And now we're Instagram FRIENDS too. HI INSTAGRAM."
According to Masala, Jennifer Aniston had commented on the fellow 'Friends' actor Matt LeBlanc's picture where he posted a picture from "FRIENDS" while celebrating twenty-five years of the television show.
While he tagged everyone else, he added Jennifer Aniston's name with a # sign. Jennifer Aniston made her presence felt by commenting on his picture, 'You don't have to # me anymore'.
Friends has a huge fan following even when the famous television show is over. While the fans were happy to see the picture, Jennifer Aniston's comment caught more attention than the actual picture.
In no time, Jennifer Anniston had almost 283k followers on Instagram who could not help feeling thrilled to see their favorite actress of all time Rachel on Instagram.