Pakistan
At least 72 months must be given to fix 72-year-old system: Firdous Ashiq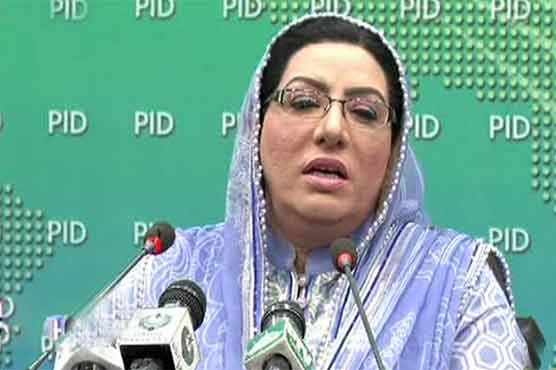 Gujranwala - Special Assistant to the Prime Minister on Information and Broadcasting Dr. Firdous Ashiq Awan said that the incumbent government should be given at least 72 months to fix the 72-year-old system of the country.
Talking at police reforms ceremony in Punjab's industrial hub Gujranwala, she said corruption is biggest hurdle in the way of development. She further said giving relief to masses is number-one agenda of the PTI government.
Talking on digitalization, she said setting up digital police helpline is a welcome step and said reformation of police has initiated.
Talking to media at Regional Police Office, the SAPM said that the people would be in direct contact with police officers through the helpline "My Police App".
Praising the Regional Police Officer (RPO) Gujranwala and his team, she said that the initiative has given practical shape to the people-friendly police vision of Prime Minister Imran Khan.
Dr. Firdous Ashiq Awan expressed that change can be brought through implementing the vision of Prime Minister. She said that police has prime role in ending exploitation and discrimination from the society.
SAPM Awan asserted that police was being turned into an institution to protect the poor instead of supporting criminals, adding that there would be no space for the criminal elements. She added that the criminals would be nabbed through the use of system of advanced technology.
"PM Imran Khan is trying his utter best to change policing practices in Pakistan", she stated. Police in past have been used to settle personal scores but this is not the case now, she elaborated.
On the other hand, she expressed on Twitter that offering loans to youths is indeed a step towards actualizing Imran Khan's set objectives. Receiving loans' applications in big number is indeed a sign of youths' confidence on PTI government.
She said Rs100 billion has been allocated for the first phase of 'Kamyab Jawan Programme'. Merit to be applied during the entire process of giving loans to youths, she stated.