Pakistan
Court extends Khursheed Shah's judicial remand till Dec 12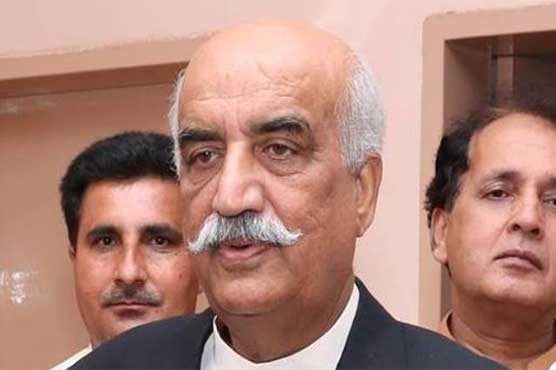 SUKKUR – An accountability court in Sukkur on Saturday extended the judicial remand of Pakistan Peoples Party (PPP) senior leader Syed Khursheed Shah till December 12 in a case regarding his alleged assets beyond means.
Shah's defence counsel argued with the court that 82 days have been passed since his client's arrest by the National Accountability Bureau (NAB), however the accountability watchdog could have produced any concrete evidence against his client.
"There is nothing in the case against Khursheed Shah […] Asif Ali Zardari is under NAB's detention from the last 120 days," the defence counsel stated.
Contrarily, the NAB's prosecutor told the court that for further investigation into the case against the arrested leader, a permission has been sought from the chairman of the bureau.
"Upon grant of permission, the court will be informed accordingly […] 90 days are not completed since Khursheed Shah's judicial remand," he said, while pleading with the court for granting extension in Shah's judicial remand for another 15 days.
On Sept 18, the NAB arrested senior PPP leader Syed Khursheed Shah in a case regarding his alleged assets beyond means.
"NAB Sukkur has arrested Syed Khursheed Shah in the assets beyond means case," a brief handwritten statement issued by NAB Islamabad said.
Multiple corruption cases against Shah are under investigation with NAB. In 2012, an accountability court had directed NAB to file a reference against him on a complaint pertaining to alleged accumulation of illegitimate assets.
In 2013, NAB had reopened two corruption cases against Shah under the directives of the Lahore High Court.
In July this year, NAB Chairman retired justice Javed Iqbal had approved nine inquiries against different personalities, including Shah.
Who is Khursheed Shah?
Born in 1952, Syed Khursheed Ahmed Shah hails from Sindh's Sukkur region, which he went on to represent as an MPA and later as MNA. He studied at Sukkur's Islamia College and obtained the degrees of MA and LLB.
He was elected to the Sindh Assembly in 1988 during which he was made a provincial minister holding a wide range of portfolios – education, import and transport being some of them. He made his way to the parliament in 1990.
Shah also served as a federal minister for education in 1993, during slain PPP leader, Benazir Bhutto's second government. In 2008, he was elected from NA-199 (Sukkur cum Shikarpur-II), PPP and became minister for labour and human resources. He was made the federal minister for religious affairs in 2010.
In 2013, he was elected from NA-199 (Sukkur-cum-Shikarpur-II), PPP and became the leader of the opposition in the National Assembly.
He was elected to the National Assembly once again in 2018, as he won NA-206 (Sukkur-1) and was the opposition's joint nominee for speaker's position.