Pakistan
Currently 3mn students studying in public-private universities, NA Body told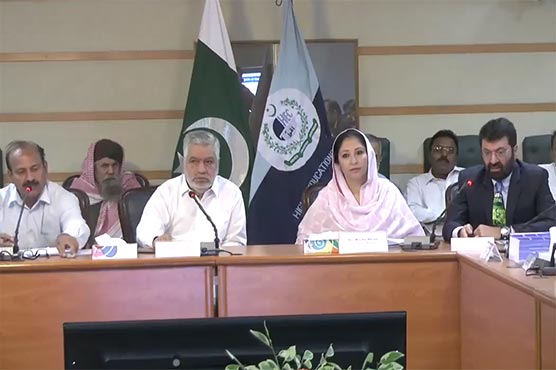 ISLAMABAD (APP) – National Assembly Standing Committee on Federal Education and Professional Training was on Monday informed that currently around 3 million students were studying in country-wide public and private sector 195 universities.
In his briefing to the committee on Monday, Chairman Higher Education Commission (HEC) Dr Tariq Banuri said the number of students was being increased from 10 to 15 percent each year.
The committee meeting held here under the Chairmanship of Member National Assembly (MNA) Najeeb Ud Din Awaisi was also attended by the other committee members and officials from PEIRA, HEC, AIOU and Ministry of Federal Education.
Dr Tariq Banuri further said that HEC distributes the government funds of higher education to the universities. Around 15,000 research journals had been published last years, the Chairman said adding that HEC provides funds of Rs one billion to the universities in term of research work.
To a question of committee member that whether HEC foreign scholars come back after completing education, the Chairman HEC replied that the return ratio of HEC scholars from abroad was around 97 percent. This return ratio, he said was better than many other countries.
MNA Ali Nawaz Awan asked about the conditions of HEC for awarding registration to the private higher educational institutions as the number of private universities in federal capital was increasing speedily.
Replying the question, Dr Tariq Banuri said that HEC do not manage the universities but regulate them. He further said that HEC reviewing this issue and the universities which were violating the HEC rules in educational programs that were being banned for further admissions.
Dr Tariq also told the standing committee on federal education that HEC funds were being reduced and requested the committee to support HEC in this regard as it would be a major crisis for higher educational institutions.
The committee also stressed the need of capacity building for teachers as professors of Urdu University were lodging FIR's against its students.
On demand of the committee, the representatives of private educational schools presented the recommendations to make the role of Private Educational Institutions Regulatory Authority (PEIRA) more functional.
President Private Schools Association Zafran Elahi told the committee that PEIRA was being run illegally after 2015.
Secretary Private Schools Association Abdul Waheed said that PEIRA had wasted thousands of rupees deliberately in fake cases.
President Private Schools Network Dr Afzal Babar said that PEIRA had failed in its basic aim of registration, regulation and promotion of the institutions.