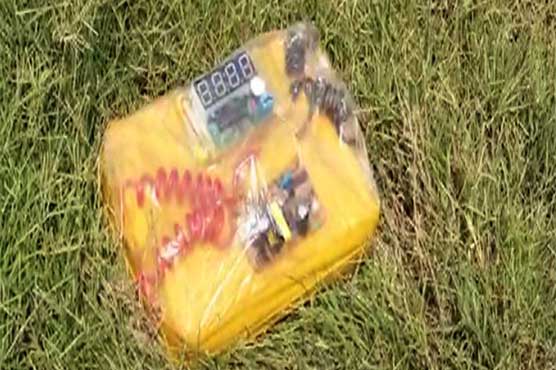 Fake bomb planted in Faisalabad to terrorize people
FAISALABAD – Bomb recovered from Anarkali Bazaar in Faisalabad's district Samundri today (May 15) had no explosives inside it. Fake bomb was planted to spread fear among people.
According to the sources, a perfume was packed with cables, seals, batteries and timing device installed on it to make it look like a bomb.
As per details, miscreants shaped the perfume box with different installations to terrorize the people as no sort of explosives were found in the recovered item.
CPO Faisalabad Azhar Akram and Deputy Commissioner Saif Ullah Doger also arrived at the crime spot. According to police, two suspects are being investigated.
Earlier today, A terrorism bid foiled as a bomb was recovered in Samundri.
The explosive was placed in Anarkali Bazaar when bomb disposal squad reached the market and seized it from the spot.
The police officials arrested two suspects afterwards and shifted them to an unknown location for interrogation.
Furthermore, the Anarkali Bazaar and adjacent markets were cordoned off for security purposes. The authorities are conducting further investigations.