Pakistan
Fazlur Rehman delivered legal notice over claims 'govt recognised Israel, altered law'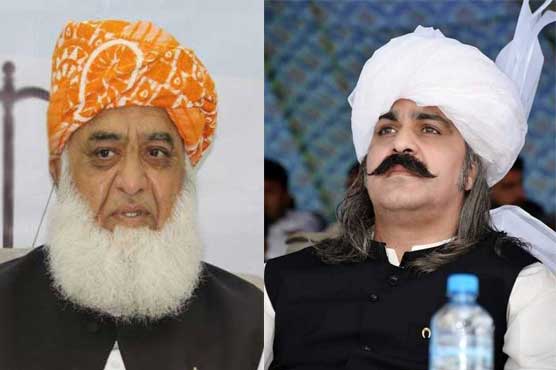 ISLAMABAD – Federal Minister for Kashmir Affairs and Gilgit-Baltistan, Ali Amin Gandapur has sent a legal notice to Jamiat Ulema-e-Islam-Fazl (JUI-F) chief Fazlur Rehman on the accusations that the ruling Pakistan Tehreek-e-Insaf (PTI) had made alterations in the Constitution and recognition of the state of Israel, Dunya News reported on Sunday.
According to Gandapur, the notice has been delivered to one of Rehman's madrasah via Pakistan Post's urgent mail service and photos of the notice being delivered were also taken at the moment.
The minister asked Rehman to prepare for giving his response on the notice and no excuse of notice 'undelivered' would be acceptable.
"Rehman has made baseless accusations against the government and related Pakistan government's merger of FATA region with Modi's unconstitutional annexation of occupied Kashmir with India," Gandapur said while criticising the JUI-F's chief.
Earlier, Gandapur met PTI's senior leader Babar Awan and discussed matters to initiate legal action against the Rehman for his role as the Kashmir committee chairman in previous tenure of the government.
Gandapur also claimed that Rehman's 'Azadi March' would fail as he lacked the support of the general public.
The JUI-F chief has announced to hold anti-government 'Azadi March' on October 27 and plans sit-in in the federal capital for lockdown.
"The entire country will be our battleground," Fazl had told reporters during a press conference.
"Our strategy will not remain stagnant. We will keep changing it to cope with [any] situation," he had said. He had claimed that a "flood of people from across the country" would join the demonstration.