Pakistan
Gas canister explosion in Tezgam Express claims at least 65 lives in Rahim Yar Khan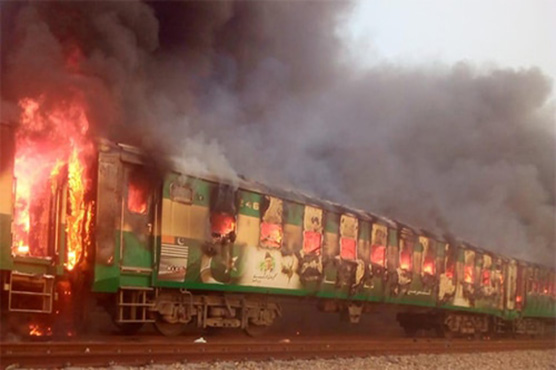 RAHIM YAR KHAN – At least 65 passengers lost their lives and 32 sustained critical burn wounds on Thursday when three carriages of a Tezgam Express caught fire due to explosion in a gas canister used by Tableeghi Jamaat passengers to cook breakfast near Talwari Station in Liaquatpur area of Rahim Yar Khan. The train was bound from Karachi to Rawalpindi.
Many commuters were injured when they jumped from the moving train to escape the flames. Emergency has been declared in all hospitals of the district. 12 of the injured persons are in critical condition, whereas 18 bodies could not be identified.
Women and children are also amongst the victims. Many of the dead and injured were shifted to DHQ Hospital in Liaqatpur.
Pakistan Railways has stated that people can contact them at helpline number (03008060780) for any required information. Pakistan Railways (PR- Karachi Division) has given a helpline number 02199213506 for families of the passengers to contact in case of any required information.
Firefighters and Rescue 1122 teams have extinguished the fire and evacuated other passengers from the train to safe places. The affected carriages were separated from the train. Meanwhile, a cooling and search operation is underway under the supervision of Rahim Yar Khan's deputy commissioner.
Pakistan Army soldiers have been assisting in relief and rescue efforts, according to Inter-Services Public Relations (ISPR) Director General (DG) Major General Asif Ghafoor. An army helicopter was also dispatched from Multan in order to rescue the injured, the ISPR statement added further.
Initial reports suggested that at least three carriages (No. 3, 4, 5) of the train caught fire immediately after the cylinder exploded in one carriage when preachers belonging to the Tableeghi Jamaat were cooking breakfast on a gas cylinder.
According to the DCO, 207 commuters were travelling in the three bogies with 77, 76 and 54 in each of them. Most of the passengers began their journey from Hyderabad.
In a condolence message, Prime Minister Imran Khan has expressed deep sorrow with the grief-stricken families and directed authorities to provide best possible medical care to the injured persons.
Federal Minister for Railways Sheikh Rasheed told the media that rescue operation was underway and the track would be opened after two hours.
"Two cooking stoves blew up. They were cooking, they had (cooking) oil which added fuel to fire," Rasheed told a private TV channel. "Most deaths occurred from people jumping off the train," he added.
Baqir Husain, the head of the district rescue service, said the death toll could rise, and 16 people had been injured.
People sneaking stoves onto trains in order to prepare meals on long journeys is a common problem, the minister said.
Punjab Chief Minister Usman Buzdar has also expressed grief over the tragic incident and directed officials to provide effective healthcare facilities to the injured persons.
Moreover, there are major delays for train commuters travelling to Lahore. Khyber Mail has been halted at Sadiqabad Railway Station, Green Line stopped at Tarinda Siway Khan, Bahauddin Zakaria Express at Khanpur, Sir Syed Express at Adam Sahaba, Shah Hussain Express at Liaquatpur Railway Station.
The incident s initial report signed by Medical Officer at Tehsil Headquarters Liaquat Pur carried names of 32 passengers.
The death toll on the list shows 16, which was later revised up to 65 by government officials.
Pakistan's colonial-era railway network has fallen into disrepair in recent decades due to chronic under-investment and poor maintenance.
Eleven people were killed in an accident in July and four in another accident in September.
About 130 people were killed in 2005 when a train rammed into another at a station in Sindh province, and a third train hit the wreckage.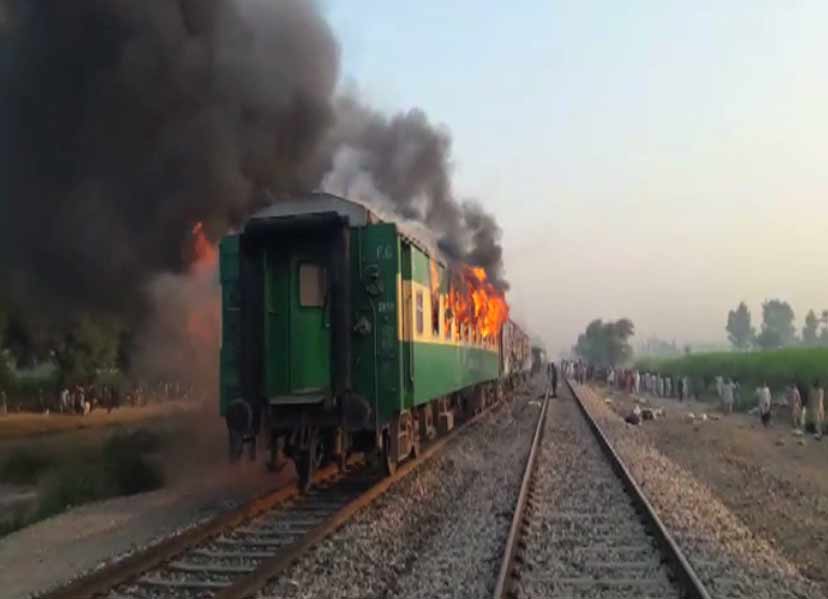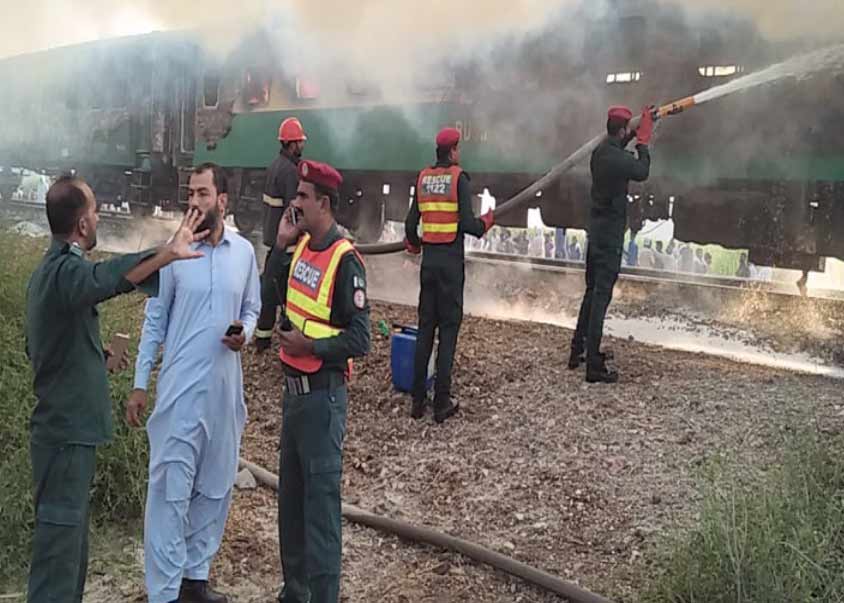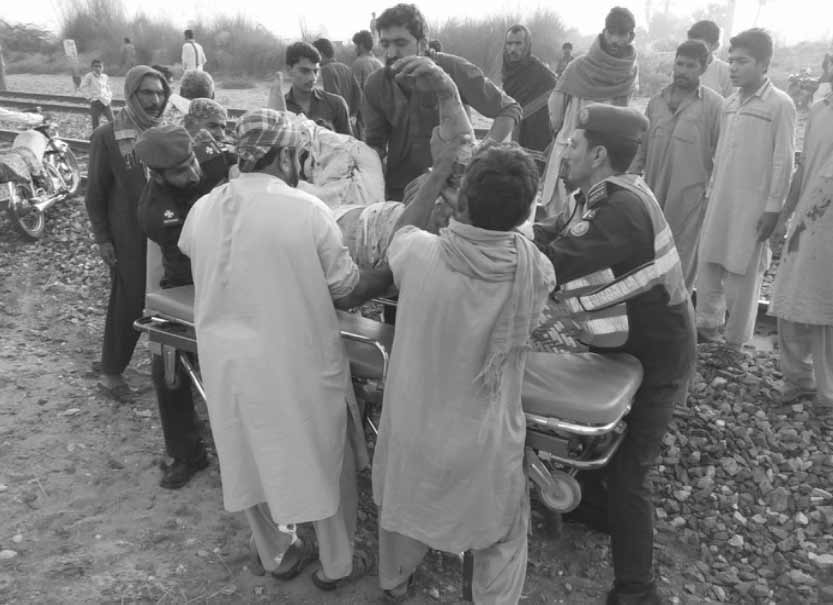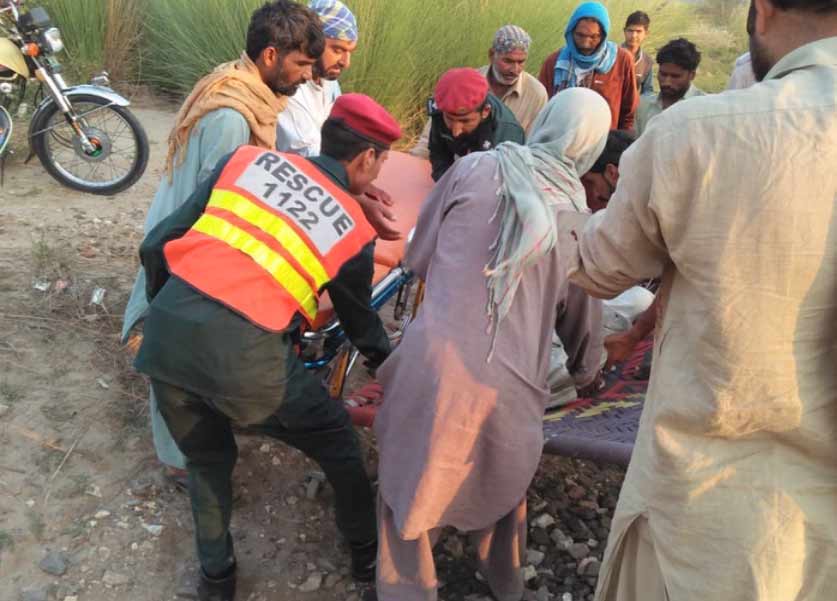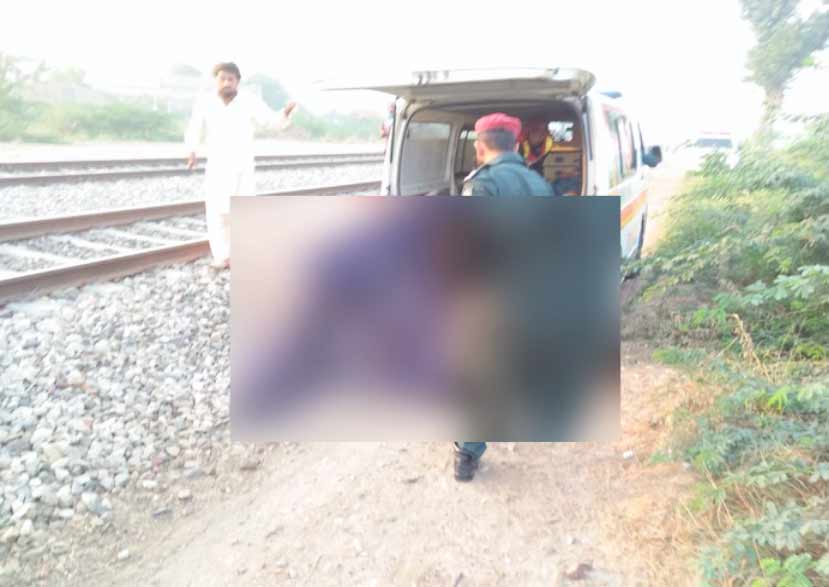 This is a developing story and will be updated accordingly.