Pakistan
Photo of Nawaz Sharif under treatment at Services Hospital surfaces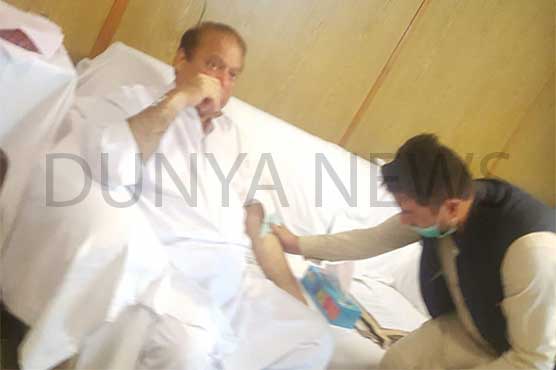 ISLAMBAD – A photo of former premier Nawaz Sharif under treatment in the VVIP room of the Services Hospital has been obtained by Dunya News.
It can be seen in the picture that doctor is taking blood samples of Nawaz Sharif for various medical tests. The Pakistan Muslim League-Nawaz (PML-N) can be seen wearing a white shalwar kameez.
Meanwhile, the number of Nawaz Sharif platelets has reached 39,000. Sources said Medical board opines that it would be dangerous for health of Nawaz Sharif if more medicine given to raise platelets. Medical board has stopped IVI injection therapy of Nawaz Sharif saying he can live with 30,000 platelets.
Islamabad High Court (IHC) on October 29 granted former prime minister Nawaz Sharif bail for eight weeks to obtain medical treatment.