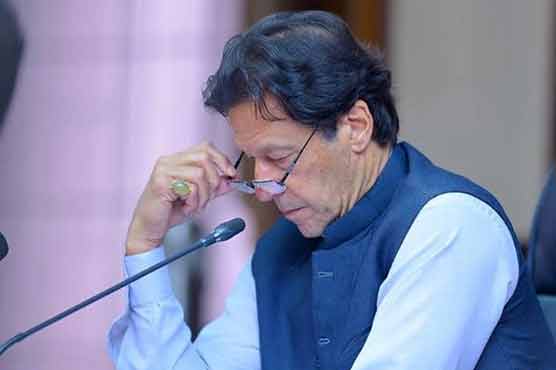 PM Imran changes portfolios of several federal ministers
ISLAMABAD – Prime Minister Imran Khan on Thursday has changed and re-allocated the portfolios of ministers of the federal cabinet.
According to Dunya News, Fawad Chaudhary has been given the portfolio of Minister for Science and Technology, while Ghulam Sarwar will be Minister for Aviation, Ijaz Ahmed Shah Minister for Interior and Shehryar Afridi Minister of State for SAFRON.
Mohammad Mian Soomro will be Minister for Privatization and he will also hold additional portfolio of Aviation Division.
Azam swati has been appointed as Minister for Parliamentary Affairs, while Dr Abdul Hafeez Sheikh as Advisor on Finance.
Dr Zafarullah Mirza has been appointed as Special Assistant to Prime Minister on National Health Services, while Dr Firdous Ashiq Awan Special Assistant to Prime Minister on Information and Nadeem Babar on Petroleum Division.
Finance minister resigns

Earlier today, Pakistan Tehreek-e-Insaf (PTI) Member National Assembly (MNA) Asad Umar decided to quit as the finance minister of Pakistan.
The PTI leader said that he conducted a detailed meeting with Prime Minister Imran Khan after his proposal of reshuffling of the cabinet. "I convinced the premier to allow me to step down from the cabinet," he said. "I thank Imran Khan for inviting me to join PTI and to put his trust in me. My support will always be PTI which will make naya (new) Pakistan.
"I have had an amazing journey in Pakistan Tehreek-e-Insaf since April 18, 2012 – the day I joined the party. "I enjoyed a lot of success and faced difficult times as well. I specially thank PTI supporters and social media volunteers for their tremendous support. "Special gratitude goes to the people of NA-48 and NA-54 for electing me.
"The economy of Pakistan – when I took charge – was in the most dangerous condition and we could have fallen into a pitfall if correct and bold decisions had not been made. "The economic condition improved during my tenure and the figures verify the claim. "Although the new finance minister will assume the office in a relatively better position, still difficult decisions will have to be made.
"The economy is going towards betterment but finance ministry is still the second most difficult job in Pakistan after the premiership. "The people should show patience and support tough decisions. Choices made in haste may drop the economy back into the pitfall."
"As part of a cabinet reshuffle, PM desired that I take the energy minister portfolio instead of finance," Asad Umar tweeted. "However, I have obtained his consent to not take any cabinet position. I strongly believe @ImranKhanPTI is the best hope for Pakistan and inshallah (God willing) will make a naya (new) pakistan," he wrote.
There was no immediate statement from Khan s office or confirmation of who would replace Umar, and it was not clear how Umar s absence would impact any IMF deal.
A new finance minister will have to look after a "difficult economy", Umar told a hastily assembled press conference in the capital Islamabad shortly after the tweet announcing his resignation.
"We need to take some difficult decisions and we need to show some patience," he said, appealing to the public to "stand with" the new finance minister. "Don t expect that there will be miracles and rivers of honey and milk will start flowing in the next three months," he warned.