Pakistan
PML-N leaders react to Hamza Shehbaz's arrest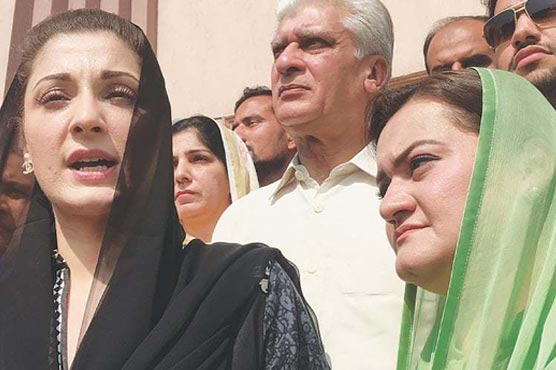 LAHORE – Pakistan Muslim League-Nawaz (PML-N) vice president Maryam Nawaz on Tuesday has said that National Accountability Bureau (NAB), who follows instructions by 'puppet PM', has crossed all the limits.

In a chain of tweets, Maryam Nawaz said that PML-N will continue to become voice of the people despite all the tactics by incompetence PM and his fake government. Jails are neither new for Hamza nor for any other leader in the party, she added.

Maryam encouraged Hamza Shehbaz to stand fearlessly as the so-called 'puppet show' is about to end. You (PM) cannot hide yourself from the anger of the general masses by distracting them with detentions of the opposition leaders ahead of your 'historic failures' like budget and Economic Survey, she said.

PML-N vice president also stated that no one can save this stumbling government of Pakistan Tehreek-e-Insaf (PTI) by carrying out the arrests.

Meanwhile, PML-N's Marriyum Aurangzeb said that Hamza's lawyers were not given the required documents during the proceedings in the court.

She further termed the cases against her party leaders as the worst form of political revenge. PM Khan, while working on some unknown agenda, has crippled Pakistan's economy in 10 months, she added.

It is to be mentioned here that Hamza was arrested after Lahore High Court (LHC) turned down his applications for extension in his interim bail.

Following the proceedings, a special team of NAB shifted the PML-N leader to the bureau's headquarter at Thokar Niaz Baig in Lahore.
Hamza is being trialed in Ramzan Sugar Mills, money laundering and assets beyond means cases.