Technology
Huawei's first 5G smartphone goes on sale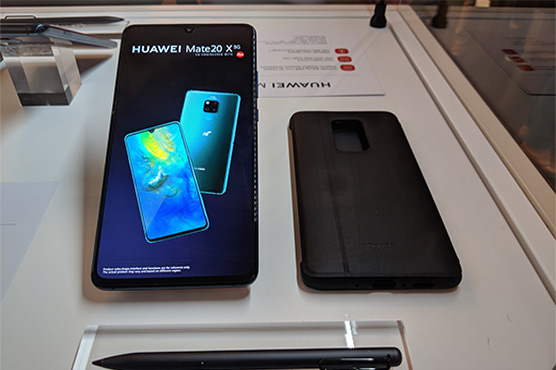 BEIJING (Reuters) - Chinese tech giant Huawei's first 5G smart phone, the Mate 20 X 5G, went on sale on Friday in China.
Yu Xiaohong, a Beijing resident, purchased a Mate 20 X 5G at the price of 6,199 yuan (about 880.38 U.S. dollars) at the Sanlitun service hall of China Mobile on the day, becoming the first Huawei 5G commercial mobile phone user in Beijing.
"It's faster to download things and surf the internet. The phone is priced at 6,199 yuan, and I have received some gifts and a 200-yuan (about 28.40 U.S. dollars) refill card, so I think it's cost-effective," said Yu.
Yu said this phone is not only suitable for 5G systems, but also for systems upgrading from 4G to 5G.
The total number of pre-orders for the phone has exceeded one million since the reservation started on July 26.
"I have reserved before the release, so I came here to fetch the phone today. I would like to stay ahead of the trend," said Wang, another consumer.
For consumers who want to experience 5G for the first time, besides the price of 5G mobile phone, the cost of 5G data package and whether the existing 4G package can be used for 5G network are also the most concerned issues.
"I mainly consider whether the data quantity of the package would be enough for me. For example if it can satisfy my needs to surf the internet, download files, and watch movies online," said a Beijing resident.
Since 2014, the number of domestic 4G users has reached nearly one billion with a penetration rate of 80 percent.
Facing the fierce competition, the charges of 4G plans of the three telecom operators are all quite popular in order to attract users. The package of less than 100 yuan (about 14.20 U.S. dollars) per month can basically meet the needs of ordinary users.
"In terms of 5G, we will meet the needs of different application scenarios. For example, we may charge not according to the data flow, but the bandwidth, or the network speed, so as to meet the needs for speed," said Liu Guiqing, vice general manager of the China Telecom.