Technology
Integration of art, AI technology amazes conference audience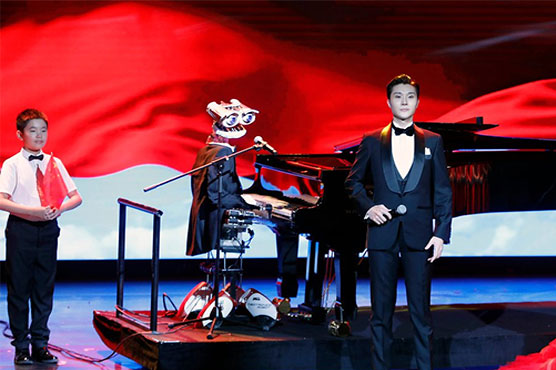 BEIJING (Reuters) - A special art show featuring AI technology amazed audience at the recently ended World Artificial Intelligence Conference in east China's Shanghai Municipality.
Entitled "AI + Art Journey of Wonder", the show was staged every evening at Mercedes-Benz Arena from August 29 to 31.
Accompanied with the rhythmic thud of drum, the show started with a dancing performance when two robot arms interacted with dancer through projection.
Luo Tianyi, a virtual idol created by Yamaha Corporation in collaboration with Shanghai HENIAN Information Technology Co. Ltd. performed a folk song and even co-hosted the event with the real host.
The highlight came as an Italian robot played the piano while singing "Ode to the Motherland" with real singers.
The inspiring form encouraged artists to have in-depth thinking on art creation.
"When we combine the traditional art performance with the latest technology, can we manage to discover more charm beyond the art performance itself instead of simply presenting them on the same stage. It sets an important requirement for art workers like us," said Huang Doudou, a notable Chinese dancer.
The show also featured seven performances that integrated AI with modern dancers, folk songs, Kunqu Opera as well as piano performances that were enabled by techniques like human-computer interaction, motion capture, virtual reality, holograms and 3D images.
"Through the performances accomplished by artists and technology, the show conveys to people the spirit of continuous learning, inheritance and innovation in the process of human civilization and technological development," said Dai Xiaorong, a professor at the Shanghai Conservatory of Music.