World
Modi speech on Kashmir situation 'cold irony': US expert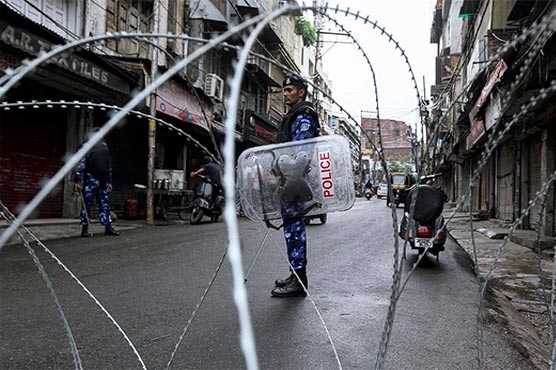 UNITED STATES (Reuters) - Indian Prime Minister Narendra Modi's speech that defends the decision to strip autonomous status of the Indian-controlled territory of Kashmir on Thursday night was a "cruel irony," as it only adds more uncertainty to the disputed region and its people, according to an expert.
Indian authorities have launched a complete shutdown on Kashmir, including internet, cellphone and land-line networks in the region as the Hindu-led nationalist government in New Delhi scrapped the region's statehood and special status on Monday, including the right to its own Constitution.
Thousands of additional troops were sent to the already heavily militarized region out of fear that the government's steps could spark unrest.
Mona Bhan, Associate Professor of South Asian Studies at Syracuse University and co-author of the book "Resisting Occupation in Kashmir," told China Global Television Network (CGTN) during an interview that Modi's speech posed a striking contrast to what his government has done so far to Kashmir.
"I think the entire speech was a cruel irony because what Narendra Modi talked about was the answer of a new era. He congratulated people on Eid and said there would be avenues open up for people to celebrate Eid, and this is a time when Kashmiris are under a very tight curfew, its a siege that they are under, that they are experiencing, it's a total media blackout. Not even a single soundbite can be heard. Only people who can travel and have managed to travel from Kashmir to Delhi or other places in India have been able to report. So the cruel irony of this is that, he is celebrating this new dawn of Kashmir when Kashmiris are locked up," she said.
Modi claimed in his Thursday speech that restrictions in Kashmir would be relaxed soon. In Bhan's opinion, there's no chance the region will transit in peace once communications are restored and people are fully aware of what is happening.
"I expect massive resistance. What that resistance might look like, we are not entirely certain about that quite yet. It also depends of course on this massive military influx of the Indian forces into Kashmir territory and how thats going to pen out, how people are going to be able to navigate this new terrain of intense militarization," she said.
"One would hope there's no military retaliation because that's obviously going to be absolutely devastating for a region that's already extremely fragile. And we can't even imagine a nuclear war in that region. I'm hoping that this scenario is going to mobilize the United Nations to really step in and hold India accountable to the United Nations resolutions that India of course completely reject," said Bhan.